Under Construction

This page is currently under construction .
By: T And J Kids (Reason: I like this song.)
Song: People Like Us (Kelly Clarkson song)
Artist: Kelly Clarkson
Year: 2013
Hot 100 peak: #73
The video begins with a robotic version of McWolf speaking the first few lines of the song, alternating between the real version and the robotic one.
Hey… everybody loses it,: McWolf turns to the audience, feeling a bit depressed.
Everybody wants to throw it all away sometimes: Pictures of Tom and Jerry throwing all their belongings outside, crying.
And hey… yeah I know what you're going through: The first part shows McWolf singing, while the second part shows an arguement between Tom & Cindy-Lou.
Don't let it get the best of you, you'll make it out alive: The first part shows an arguement between Jerry and the Mermouse, while the second part shows McWolf singing in a powerful way.
Ohh…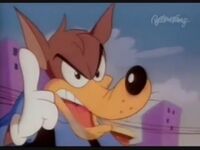 People like us we've gotta stick together: Tom clutches Jerry's hand with only the hands showing.
Keep your head up, nothing lasts forever: McWolf looks sideways and then looks at the audience, slowly putting his hand downwards from his head.
Here's to the d***ed, to the lost and forgotten: The scene from 'Car Wash Droopy' where McWolf says, "If one more person asks me directions to that place…" appears (see pic).
It's hard to get high when you're living on the bottom: McWolf closes his eyes shut and when the word 'living' is heard he suddenly opens his eyes and faces the audience.
Chorus:
Oh woah oh oh woah oh: The Tom & Jerry Kids cast all move back and forth, in a group, singing.
We are all misfits living in a world on fire: McWolf sings, pointing at the audience, and when the word 'fire' is heard, flames suddenly burst out in the background.
Oh woah oh oh woah oh: Same as above
Sing it for the people like us, the people like us: The first part shows McWolf faceing sideways, while the second part shows potraits of T&JK characters.
Ad blocker interference detected!
Wikia is a free-to-use site that makes money from advertising. We have a modified experience for viewers using ad blockers

Wikia is not accessible if you've made further modifications. Remove the custom ad blocker rule(s) and the page will load as expected.